We've been pretty quiet the last couple of months as we work to catch up on orders. I'm not sure if we have mentioned it publicly or not, but we had to move our operations into our garage as the climate control of the workshop we moved into last summer could not handle the winter. While it has been a long process, I think our production is finally back to where it was before our move. We also have the benefit of having the space to work and have all of our tools stored in the same space. We still have a lot of cleanup left to do, but it is all improvements or for products that we have yet to release.
While we have made a lot of improvements to how we make our tufts over the years, they have all been tweaks to our existing methods. Unfortunately, up until now the durability and true self-adhesive nature of our tufts has bottlenecked our ability to produce them at any large scale and that is not something we are willing to sacrifice, especially since most self-adhesive tufts out there are at best, sticky. This has always been an issue, but the last few months our sales have finally outpaced our production capabilities as our orders have gotten backlogged farther back then they ever have before. We have even put several new products on the backburner due to how much time our tuft production is eating up. While we have greatly appreciated everyone's patience as we slowly churn through orders, we can't keep this pace up – it's been exhausting and not fair to our customers.

Once we realized this was an untenable situation during the holidays, we begun work on fixing it long term as we finally had the space, resources, and knowledge to do something about it. After many late-night conversations with an engineer friend of mine, pursuing more scientific knowledge about static grass and adhesives than I care to admit, and drafting and redrafting multiple plans and ideas, as well as a few very messy proof of concept tests, we finally have a new production system to implement that should increase our tuft production by 10x and with less physical exertion. Figuring out our tuft production issues is also one of the few remaining steps for us to go full-time with Shadow's Edge. Our goal is that we will be fulltime by the end of the year, although a few other pieces need to be figured out for that to become a reality.
This new system will take time to put into place and tweak, so we are going to shut down our website and all sales for 3 weeks in March. The first week will be used to catch up and ship out any current orders and then the final two weeks will be to put the new system in place and begin building an inventory of tufts. We are also going to use this time to revamp our website and pictures, which is long overdue. We are tentatively planning to take everything down on the March 13th, but we'll make an announcement prior either way.
We're also going to make a few other logistical changes as we prepare to move Shadow's Edge to full-time. We'll give a full list of changes once they are made, but we did want to mention a couple key items here. First off, we are temporarily going to suspend our retail program effective immediately. This will not affect our current retailers or stores who have already reached out to us. I don't have an ETA on when this will go back live, but we'll make an announcement when it does. Second, we are going to retire a handful of our tuft colors. We don't do this lightly, but we have a lot of exciting tufts planned and we decided these few colors weren't popular enough or were too redundant to keep in our lineup. We will accept custom orders of these colors throughout the remainder of the year, so if you are midway through an army project, don't worry as you can use our Contact Us page to request a custom order of these, but they will not be an option on our website after the update.
The colors being retired are:
4mm Pale Green
6mm Dead
6mm Seaside
6mm Wasteland
But enough of the serious talk! Here are a couple items we stealth added to the website over the last month or so. A very happy customer sent us these images of their Sisters of Battle on our new addition to the Rosarium lineup.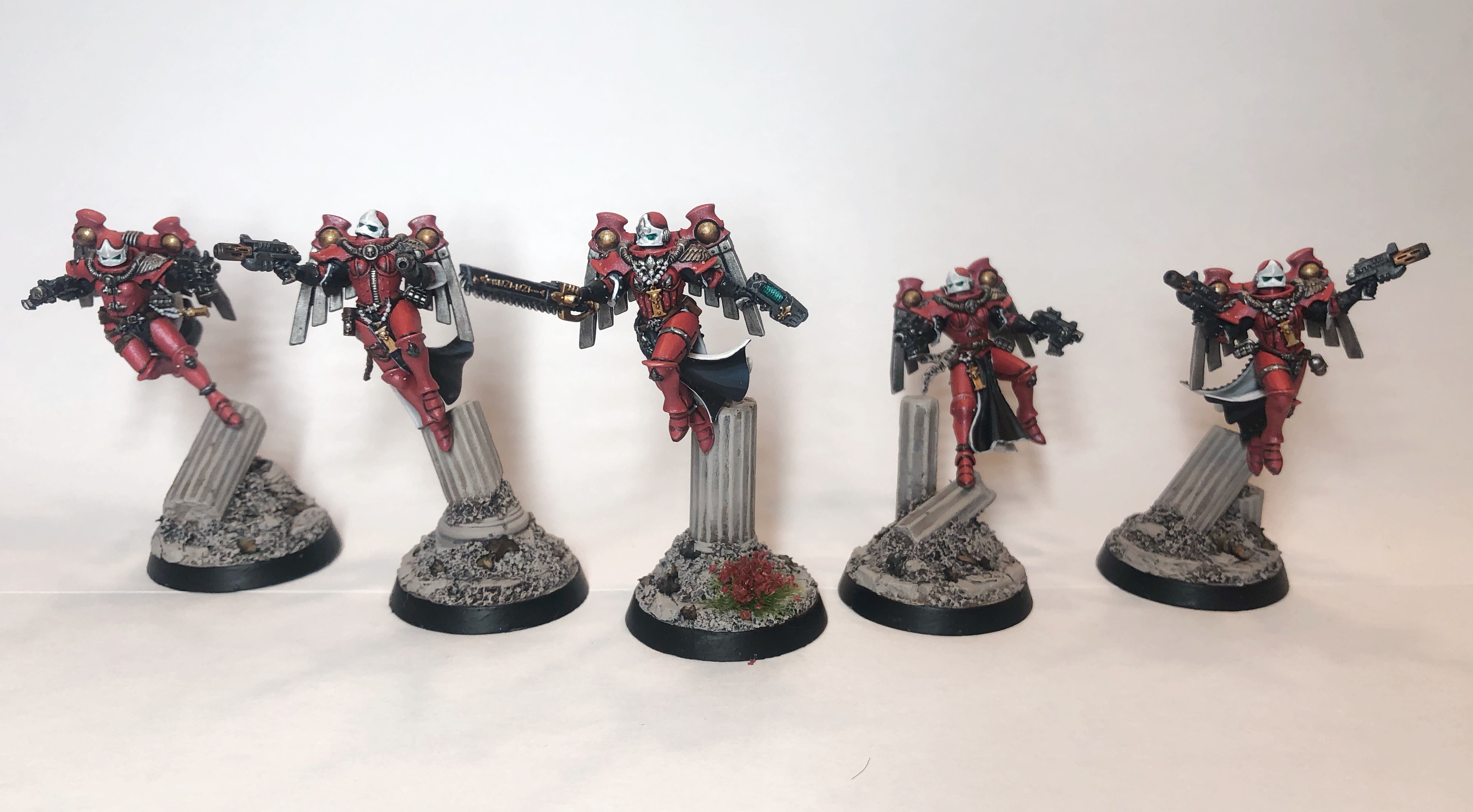 Also, a preview of some base accent bits for Druidic Realms.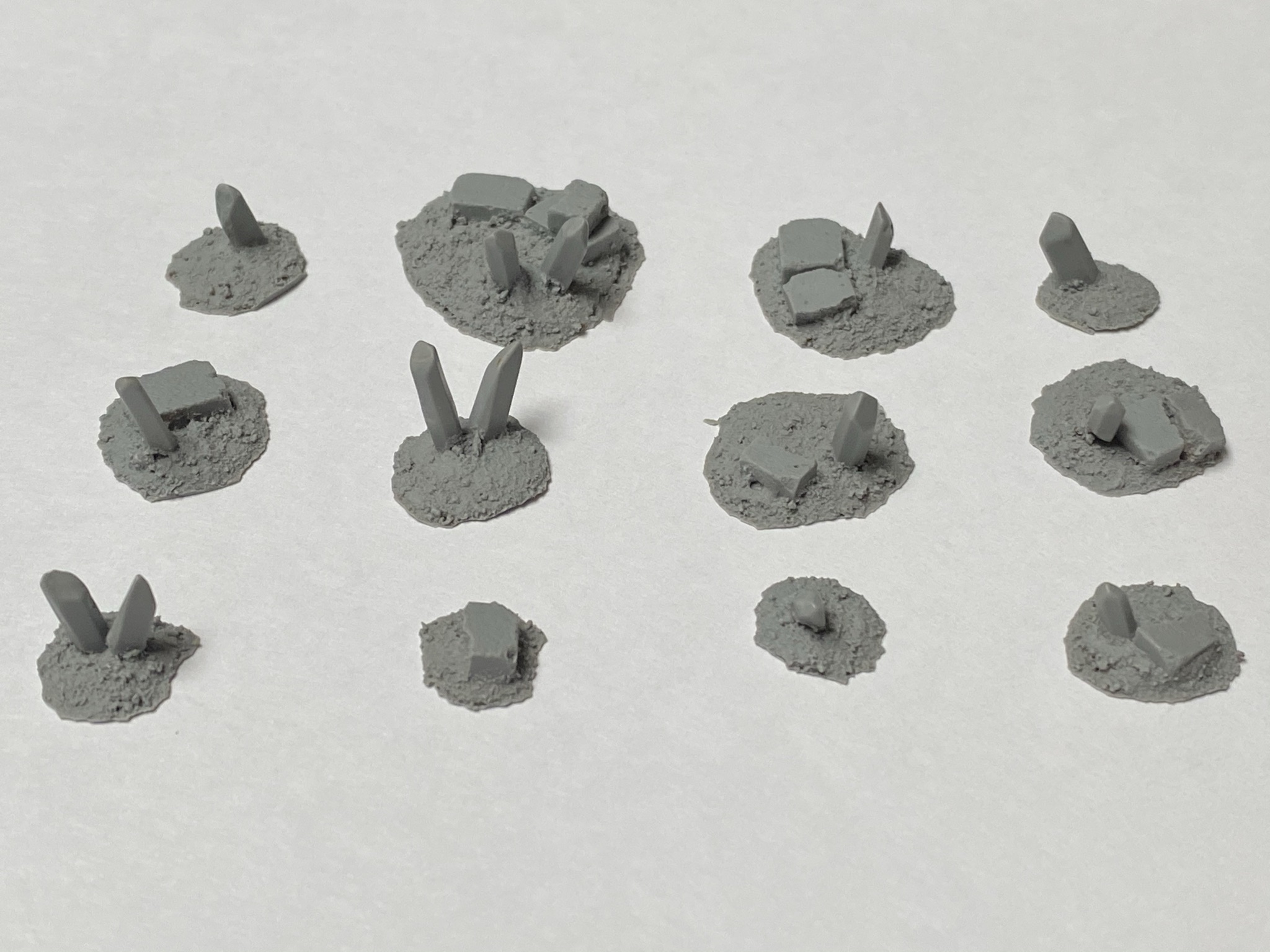 And packaging for something coming very soon!
We cannot thank you all enough for making this possible. We could not have gotten half as far as we have come over these last few years if it was not for the support and encouragement that we constantly receive from all of you. The fact that going fulltime is even a possibility is a dream come true. We look forward to showing off the new website and if all goes well a few new products at the same time!
Zach & Ali
Recent Posts
We've been pretty quiet the last couple of months as we work to catch up on orders. I'm not sure if …

To say that the last couple of months has been a wild ride is a bit of an understatement. Between t …

Well, the time has come for our Covid-19 post.While Zach's day job has been ramping up quite a bit i …